Winnie the Pooh (2011) Review
Theme Song by Brian Setzer and owned by Walt Disney Records
I'm a 20 year old American male. I usually like the kinds of films that are aimed at my demographic. Films with explosions, gunfire, hot chicks in skimpy outfits(films like "Cowboys and Aliens") etc. But none of those films can achieve what Walt Disney Studios's latest animated feature has done. To take me back to those wonderful days of my childhood and my memories of the 100 Acre Wood and that "chubby little cubby" of very little brain. This film is a love letter to all who grew up with Pooh and to the 1960s classic.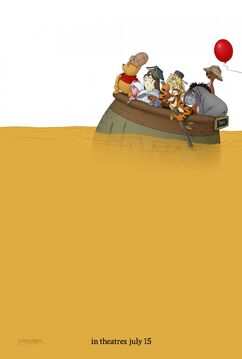 Story
I knew this movie was going to kick ass when the door to Christopher Robin's live action room opened with the stuffed animal versions of the characters inside. Soon followed by (in classic Pooh fashion) AA Milne's storybook opening with Monty Python star John Cleese's warm heartfelt narration beginning the story. The story is basically "a day in the life" of Pooh and his friends with misunderstandings and misadventures regarding the safety of Christopher Robin and Eeyore's missing tail with a conclusion on the theme of friendship and Pooh's kindness and innocence.
Some may criticize that the plot doesn't seem to go anywhere and the actions of the characters were for nothing, but that's kind of the point. The characters are representations of who we are or were as children and the misunderstandings and misadventures are a part of the experience of childhood and make some of the best Pooh stories.
Characters
There isn't much to say here. Your favorite characters are back with excellent voice acting and animation (animated by some of the most talented animators of the Disney Renaissance).
Artistic Presentation
2D is AWESOME!!!!!!!!!!!!! This film proves without a doubt that Disney is more than capable of making a quality 2D animated film. The animation is absolutely beautiful. The atmosphere of the 100 Acre Wood is perfect because it goes back to the classic format of the characters interacting with the storybook and creates great nostalgia. The music is also excellent with new songs that fit the story points well and Zooey Deschanel does an excellent job  singing the Sherman Brothers classics. In an era of fart jokes and pop cultural references this film is a nice break and has light, subtle jokes that will make anyone chuckle throughout.
Final Thoughts
This is one of the best movies I've seen this year and in my opinion is the BEST Disney animated feature since Lilo and Stitch. It's sweet, heartwarming and a classic. It just tells the story with no BS. An EXCELLENT film!
About Author