Out of all the films made by the Coen Brothers, the most popular film out of their catalogue is most definitely The Big Lebowski.
The film has gotten massively popular shortly after the film came out and has spawned a a gigantic fanbase leading up to social gatherings, conventions, and many other things dedicated to all things Lebowski related. So, after recently rewatching it I decided to count down some of the best moments in the film.

10. The Drop
While Walter can be a funny character, he often goes into his own little world that often causes trouble to those around him and in this scene that happens to be the Dude.
9. The Opening/The Rug Scene
While the scene is being narrated by Sam Elliot, it's the scene that starts off the film and gets us acquainted with our main character and the events that soon become set in motion as he, unfortunately, gets his head shoved in his toilet while his rug gets pissed on. Tragic, but also funny at the same time.
8. Jesus
Much like John Goodman, John Tuturro is almost mandatory to be in a Coen Brothers film. Out of all of the odd roles in the films,I think this was probably his oddest and the one that he'll probably be remembered for in the future. After all…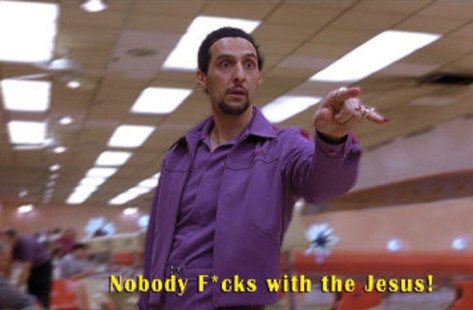 7. "I Can Get You A Toe"
If I had to go with a favorite character in the movie, it probably would be Walter. He always gets the most interesting and funnier dialgoue out of all the characters. He's always got some kind of odd thing to say and one of them just happens to tell of how he has ways of getting a Toe to the Dude by 3PM. Even with Nail Polish on it.
6. Police Chief of Malibu
Shortly after being drugged, the Dude is shortly taken into Police custody and meets the Police Chief of Malibu who is very harsh toward him, eventually leading to a rather…odd but hilarious scene. (Just look at the gif above.)
5. Gutterballs
If there's one thing that most people would remember about the film, it would probably be some of it's odd dream scenes and the one that's the most memorable is after the Dude is drugged by Jackie Treehorn and imagines being in a bowling porn movie with Maude called "Gutterballs" that's set to Kenny Rogers' "Just Dropped In (To See What Condition My Condition Was In) It was a weirdly wonderful music video to the only Kenny Rogers song I like.
4. Maude's Introduction
Another one of the more memorable characters for me was Julianne Moore playing Mr. Lebowski's strange daughter, Maude. She was a bit of an oddity, mostly making strange art as well as providing an…interesting monologue about Vaginas and how it can sometimes make people uncomfortable when the word is merely mentioned.
…
3. "OVER THE LINE!"
Walter is a bit of a loose cannon many times throughout the film and this scene is probably the best example of it when a bowler throws his ball over the line.
2. "This is What Happens, Larry…"
As I mentioned above, Walter is a loos cannon and often takes extreme measures…like confronting a teenager who's homework was found in the Dude's car and they decide to use it as a lead.
1. "You're Mr. Lebowski, I'm the Dude"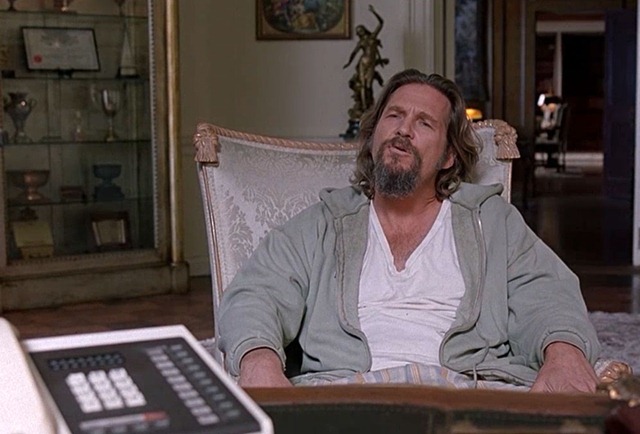 Easily, the most memorable and probably the most quoted scene throughout the whole film. It's a simple mis-communication of names, which is the plot of the whole film basically, which leads to the two Lebowski's meeting and eventually learning about each other.
While the film is filled with these and many more great moments, I'm sure plenty more can be pointed out that I missed. Until then, The Dude Abides and Happy April Fool's Day.
…I feel like I left out someone…I can't imagine who though.