In the history of Wrestling, from the Greco-Roman era, to the Universe era, many characters were told throughout history. Feats of strength were often unchallenged until another were to show their guile, gut, and gristle. From the gladiators of old to the cash cows of the present. None would ever excel the level of mysticism, fear, suspense, and extraordinary finesse like the one.
He is the Phenom. The Demon hailed from Death Valley. Armed with lightning and a dead stare. He feels no pain. He suffers no man. Ask not for whom the bell tolls, for it tolls for thee.
He is The Undertaker.
In my time of exile, I had a lot to take up after. From watching Firefly to witnessing the end of a mighty warrior in the last Wrestlemania. I also had personal issues get in my way, but this won't stop me from discussing what made the Dead Man legendary: The Immortal Streak. 22 Matches stood before him. 19 fell. Three had tried many times to best him and had failed. One managed to. No matter what the score says, 21 matches, 19 victims, one Undertaker to make the coffins for them. We're counting down the Top 13 Best Undertaker Matches, from Wrestlemania VII to Wrestlemania XXX.
13: Undertaker Vs. Giant Gonzales -Wrestlemania IX

This is not one of my favorite matches ever. The match was perfect at first. The Phenom against another phenomenal wrestler by size alone. No man could slam him. No man could ever try. This was the opportunity for The Undertaker to do what no man could. Except he couldn't. In fact, it was mostly him getting knocked down only to get back up again. What was worse was how the Undertaker "killed" his latest victim: Disqualification. Gonzales delivered some underhanded tactics such as the powder to the face just to try to win, but this made the match go in favor of The Undertaker.
So why is it on the list? It was a battle at Ceasar's Palace in Las Vegas where a supernatural character goes against a titan. It was like being back in time where giants and legends had to fight to appease the masses and it did. Too bad the other matches didn't. Looking at you Hulk Hogan…
12. Undertaker Vs. Jimmy "Superfly" Snuka -Wrestlemania VII

This was the definitive beginning of the Steak. The first in the 22 consecutive matches and more importantly, it was against a legend. Superfly Snuka was well known for the Superfly Slam, which was the first high risk maneuver since Madison Square Garden in '83. Also know for being a hardheaded SOB, literally, after taking a coconut to the head by Roddy Piper, Snuka was established as one of the greats. However, his time came when The Undertaker got to work on a new coffin, especially for the Samoan and boy, did the world witness the tombstone piledriver in effect.
It's not a great match as I make it out to be. Mostly it's a showcase of who the Undertaker really is. Impervious to pain, indestructible to an extent, and undefeated for years and years to come. Mostly we see the Undertaker be intimidating while Snuka tries to get him to lay down for good. As history has told, Snuka was the first victim. Rest In Peace, Superfly.
11. Undertaker Vs. Mark Henry -Wrestlemania XXII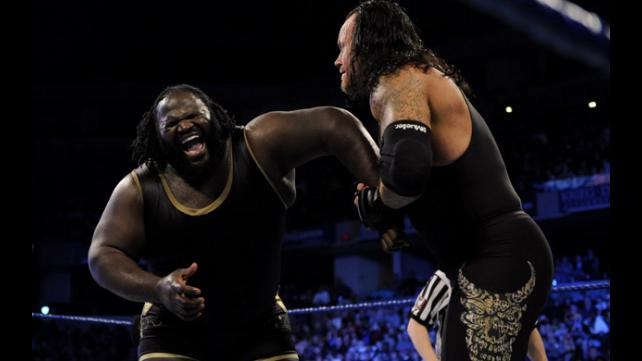 Mark Henry, strongest man in the world. One part of what made the Nation of Domination a dominant force, but when the NOD cannot keep the strongest man at bay, there's only one man who can derail this train and he's made a special preparation for Henry: Casket Match. Yes, one of the infamous casket matches in Wrestling, but most importantly, the first for Wrestlemania. For those that came in late, a Casket Match is where you face the Undertaker without pin fall, submission, and/or count-out. To win, you must "bury" your opponent in the casket. Lock, stock, and barrel to hell.
For Mark, it should be an easy picnic, right? Strongest man taking on the Phenom, no biggie. Well, it wasn't as The Undertaker took him down for every last bit of strength and buried his opponent into the infamous streak as another victim.
10. Undertaker Vs. Psycho Sid -Wrestlemania XIII

This was particularly famous for being the Undertakers FIRST championship win and when the Undertaker wins the championship, all hell breaks loose. It was set for him to face Psycho Sid, who was as generic as Chainsaw Charlie. Take a pretty threatening verb or noun and slap it next to his/her name. Big deal. I was particularly happy to see Sid lose the title to Undertaker as this opened the gates for more matches and more rivalries.
This wouldn't be the first time he wins a title, Old Dead Man here. He also held the World Heavyweight Title after winning it from Randy Orton, meaning he's been around long enough to hold a title, but to see the most imposing man win the crown means hell on earth and later on, Undertaker would expand his frontier into his Ministry of Darkness.
9. Undertaker Vs. Ric Flair -Wrestlemania XVIII

Picture this: The fabulous Ric Flair, the Nature Boy, World Heavyweight Champion sixteen times running, President of WCW, and playing Death's role as the Four Horsemen in WWE, fighting… A BIKER VERSION OF THE UNDERTAKER! You heard it right, this was the short era of the American Bad Ass Undertaker and I'd love to see this come back later. This match along with later matches against Big Show and A-Train and Triple H showcased how vicious this version of the Undertaker can be.
For starters, he isn't the supernatural, strike-fear-into-the-heart-of-men wrestler now. He's the kick-your-ass, bleed-you-out, American Bad Ass Undertaker and he excelled at making Ric Flair bleed and torturing him with much delight. Whenever he goes to pin him, he breaks his own hold just to hurt him some more. This happens many times you wanna go "Jesus, man. Just bury him already!" Also, this was where we see "The Last Ride", a powerbomb move made famous in later incarnations of the Undertaker. All I can say is, "Damn."
8. Undertaker Vs. Jake "The Snake" Roberts -Wrestlemania VIII

Jake The Snake. The epitome of a heel wrestler. He was a vicious wrestler who carried a pet snake with him when he wanted to. His pleasure was to scare you with it and at one point, attack you with it. Most notable is when Macho Man Randy Savage tried to fight Jake in the ring and had been bitten by a cobra. In fact, Jake's rivalry with Randy spanned from the ring, to Savage's wedding to Miss Elizabeth and finally, backstage where The Undertaker made his face turn by stopping Jake from hitting Miss Elizabeth and starting the rivalry between Jake and Undertaker.
What Jake didn't know was his time to die came in Wrestlemania VIII where he was given a tombstone outside the ring and finally laid to rest, presumably in the same pit the snakes like to hiss in. This made me love Undertaker more, as I loved Macho Man Randy Savage and Miss Elizabeth and did not want to see them separate or get hurt. On a side note, Lex Luger can go fuck himself.
7. Undertaker vs. Randy Orton -Wrestlemania XXI

Before CM Punk ever challenged the Dead Man like a scrub, Randy Orton made the line in the sand, carrying his World Heavyweight Title with pride. He was known as The Legend Killer, taking out greats such as Mick Foley in his infamous Hardcore Match for the Intercontinental Title. When the war for greatness began to wane, only one legend remained: The Undertaker.
This proved to be a big mistake as the Undertaker would deliver a suffering legendary even in hell, so much that Randy's father begged him to turn away and leave the boy alone. Well, when the Devil comes to collect a due, he comes to collect. No if, no ands, no buts. One man, one title, one victim in the trenches.
6. Undertaker Vs. CM Punk -Wrestlemania XXVIX

Speaking of CM Punk, His end had begun similarly like Randy Orton's. He was a great wrestler. Icon of a new era. The greatest in the world. A reputation tarnished by the fact that he is eating dust in the graveyard and the Undertaker is feeding the earth to his mangled corpse. Sorry, that wasn't true, but this fight may as well be the Crucifixion of CM Punk, as a mighty warrior steps in, shows the Undertaker what for, give him every inch of pain unimaginable to a human, and yet, Undertaker buries him once and for all.
This match may as well been Undertaker's Swan Song, as this is his 20th victory in the Legendary Streak, but as it stands, it's a footnote of epic proportions leading to the real swan song. We'll get to it later. If you can stomach the humanity of both wrestlers giving pain to each other, you will know no battle greater than that of Undertaker Vs. CM Punk.
5. Undertaker Vs. Diesel -Wrestlemania XII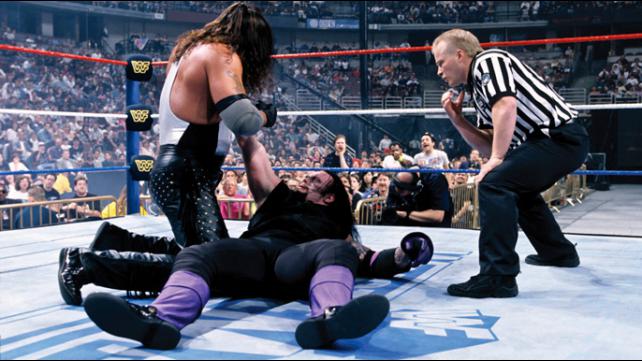 Oh, boy. Big Daddy Cool Diesel. Kevin Nash. However your view of this person is, it's always the same. He was trash to the WWE and even in the WCW. However, he was an imposing force to be reckoned with. Same build as Giant Gonzales, but with more Diesel, the Big Daddy was a mean motherfucker. Too bad that The Undertaker had to bury him. Nothing personal, he just took his urn away.
The match was mainly over the urn, which according to lore, was the source of the Undertaker's power. When that's gone, the Undertaker is vulnerable, but that also means that The Undertaker will be after your ass. Seems fitting as with one after another after another chokeslam and finally a tombstone pin combo, this Diesel ran out of fuel. Hey, it's alright. I'm sure his career gets better in The Longest Yard.
4. Undertaker Vs. Triple H -Wrestlemania XVII & Wrestlemania XXVIII

The Undertaker has fought giants, psychos, great champions, and even legends. What was his next challenge? How bout the King of Kings. Not Jesus. I'm talking about the Cerebral Assassin himself. The Game, Triple H. Aside from having a nickname that makes nerds cringe in anger, Triple H was one half D-generation X, Head of the short lived Evolution, and now CEO of WWE. Before, he was a hungry competitor that wrangled the era of Ruthless Aggression. For three matches during this era, he would face the Phenom just to end this streak and become the greatest.
Too bad that between Wrestlemania XVII and Wrestlemania XXVIII, he failed, but the two matches that mattered were exactly the former mentioned, as Triple H tried everything to end this streak, including the infamous Hammer, But even then, it still couldn't kill the Dead Man. Then, later on, Triple H fought twice against the Undertaker, culminating in one final match in Wrestlemania XXVIII, where his partner, Shawn Michaels, would guest referee and all would usher in "The End of an Era" and what an end it was. Both HHH and HBK tried to stop this monster, but reluctantly, Shawn Michaels had to count 1, 2, and 3 which meant that Triple H was out yet again. It says a lot when a person can't stay dead three times.
3. Undertaker Vs. Brock Lesner -Wrestlemania XXX

Oh, boy. This is the shot heard round the world. The infamous match against Brock Lesner. The match that broke the mighty streak 21-1. Lots of emotions ran high after the match was over. Silence filled the stadium. expressions ranged from shock and awe, to anger and frustration. The Beast himself ended the streak.
It's still a great match despite the outcome as it was like watching Hercules fight Hades. Tombstones were avoided, F5 Furies were thrown and the count happened, 1, 2, 3 and it was over. The end had begun. No words can describe it except this one: "The true end of an era".
2. Undertaker Vs. Shawn Michaels -Wrestlemania XXV & Wrestlemania XXVI

One match was a battle of Good and Evil. The other was a match of Life and Death. Shawn Michaels, the Heart Break Kid, The Showstopper, Mr. Wrestlemania, gave his soul and career just to face the Undertaker in two epic matches that saw another DX member bite the dust.
Wrestlemania XXV saw Shawn Michaels descend from the Heavens, clad in white, signifying his position as the Angel come to save us from the darkness of The Undertaker, who rose from Hell just to claim the soul of Shawn Michaels. This match was the battle of good and evil epitomized by WWE, but the victor was ultimately EVIL. The last match for HBK would see his career, his life, end before his eyes if he lost to the Undertaker, who was impressed by his fortitude in last year's Wrestlemania, but as Shawn would say "If I can't beat you, then I have no career." and thus, the passion of Shawn Michaels unfolded before us. It was three years ago, he marked the passing of Ric Flair with a Sweet Chin Music in Wrestlemania XXIV, but his own passing was carved in stone with a piledriver.
before we begin, let's recap the 12 matches that followed.
13. Undertaker Vs. Giant Gonzales -Wrestlemania IX

12. Undertaker Vs. Jimmy "Superfly" Snuka -Wrestlemania VII

11. Undertaker Vs. Mark Henry -Wrestlemania XXII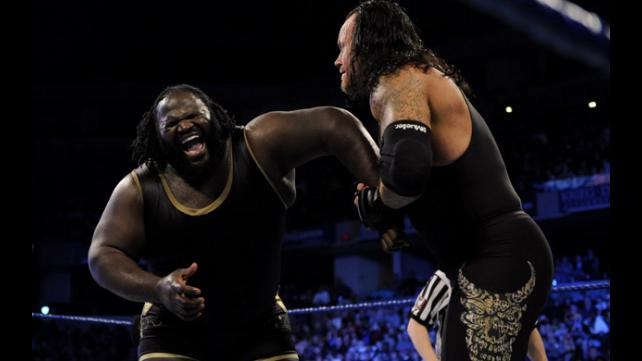 10. Undertaker Vs. Psycho Sid -Wrestlemania XIII

9. Undertaker Vs. Ric Flair -Wrestlemania XVIII

8. Undertaker Vs. Jake "The Snake" Roberts -Wrestlemania VIII

7. Undertaker vs. Randy Orton -Wrestlemania XXI

6. Undertaker Vs. CM Punk -Wrestlemania XXVIX

5. Undertaker Vs. Diesel -Wrestlemania XII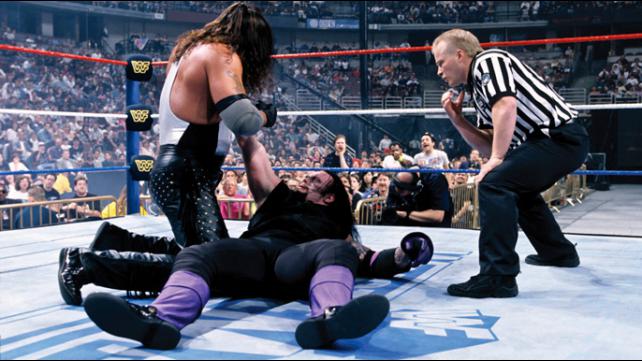 4. Undertaker Vs. Triple H -Wrestlemania XVII & Wrestlemania XXVIII

3. Undertaker Vs. Brock Lesner -Wrestlemania XXX

2. Undertaker Vs. Shawn Michaels -Wrestlemania XXV & Wrestlemania XXVI

and finally…
1. Undertaker Vs. Kane -Wrestlemania XIV

In the history of the WWE, only one figure of darkness stood out with such imposing danger and that was The Undertaker. No one equaled him. Not Papa Shango, not Boogeyman, not even Doink the Clown. There was one, however, that manage to make the Undertaker break. One character made him pray to his dead parents for forgiveness in the most unforgivable act imaginable. One that would be his greatest match in the Attitude era: KANE!
The backstory is that Kane is the brother of The Undertaker, who was believed to be dead during the Undertaker's reign. Born from fire and hideously scarred, Kane was brought up by Paul Bearer, the Undertaker's former manager and beholder of the infamous urn. When Undertaker was fighting a Hell in a Cell match, he was surprised by a red, masked figure resembling him only to find that it was his brother out to face him, but Undertaker would not do it, for it was unforgivable to his parents. Unfortunately, the time had come to face Kane and force him to rest in peace, tombstone after tombstone after tombstone in arguably, the best match in the Undertaker's history. An epic battle between two brothers who's blood runs with evil and soul is stained in darkness.
And that was the 13 best Undertaker matches, but before we end this, listen to this as you read my final epilogue.
As the years go by, and many challenges fought, over titles, over pride, over careers, none goes without the dubious honor of having many greats challenge a leviathan of darkness much like the Undertaker. 22 matches, 21 victories, 19 victims, one victor. A legendary battle raged for this moment and it came to an end, but it is never over. Another figure will show up to issue another long standing challenge and many faces and heels will take up arms for their prestige or their future. It may not be The Phenom who will do this, but it will be someone. Till then, the story remains. A story of an undead gravedigger, who's family was gone from him in a blaze of fire, who's brother turned against him in blind darkness, who's only purpose was to lay waste to any who could challenge the Undertaker and would congratulate the victor in the end. A story of unending combat. A story of the Demon of Death Valley. The Legend of The Undertaker.
REST IN PEACE, UNDERTAKER (1991-2014)