Welcome to Part 2 of my Top 52 Favorite Albums list. This one took a while longer to get uploaded due to lack of time, So I'm just going to jump right into it. (some of the descriptions are very short.)
39. Alice's Restaurant – Arlo Guthrie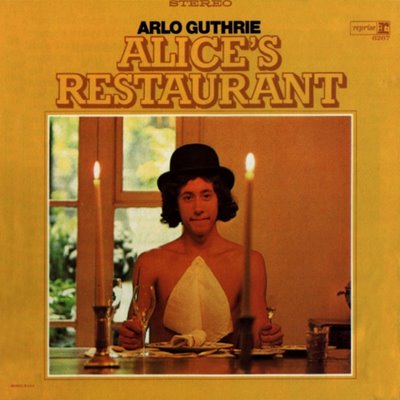 While I do enjoy his father's (Woody Guthrie) music a lot, Arlo's music was the one I always got more enjoyment out of while listening, especially from this album. I don't think it's much of a surprise that the best track on here is the frst song which tells the story of Arlo and his experience with the Vietnam War Draft as well as half a ton of garbage which ends up having some enexpectedly funny moments and will probably leaving you to say the following words when you visit any psychiatrist: "You Can Get Anything You Want at Alice's Restaurant."
While the rest of the album's tracks aren't as memorable as Alice's Restaurant Massacree, but they are enjoyable for the short folk songs that they are and are some pretty good tracks from Arlo.
38. Fly Like An Eagle – The Steve Miller Band
When asked about my favorite music instrument, my answer will always be Organs and Synthesizers and this album was basically were it all started. The whole album has become a recent favorite of mine that I've come to appreciate, mostly due to it's atmospheric sounds, it's memorable songs, and, obviously, its Synthesizer and Organ sections.
37. Master of Reality – Black Sabbath
Personally, I could have put any of the first three Black Sabbath albums for this list. They are all great examples of Metal in its early years, but the one that has come to grow on me is their third album. Being mainly an early example of Doom Metal, one of my favorite metal sub-genres, they definitely created one of the best Metal albums that inspired many others in their footsteps, mainly a lot of Grunge bands like Nirvana and Soundgarden, and helped them obtain an international breakthrough which gave them plenty of success throughout the years.
36. I Never Loved A Man The Way I Love You – Aretha Franklin
While I had the Godfather of Soul, James Brown, on the list, in Part One, It didn't surprise me that I'd put Aretha Franklin on here as well. This is definitely her absolute best album with some of her most memorable songs on here, Mainly "Respect" being the most popular, and is another great showcase of her singing abilities.

35. Sweet Dreams (Are Made of This) – Eurythmics
I've always held a soft spot for music from the '80s. While being heavily raised with a lot of the popular acts and one hit wonders of the decade, I grew to like many different artists from that decade and one of them that I've always enjoyed is Eurythmics. I've always enjoyed the minimalist electronic sounds that was always offered from Synthpop, but were I think this album really shines is with Annie Lennox's vocals which adds in a bit of Soul into it, giving it a bit of change as well as some emotion into a genre that often can be rather lifeless.

34. Live/Dead – The Grateful Dead
The Grateful Dead have always a band who were always known for their awesome live performances. While I do love their studio albums, their live stuff is some of their best stuff they have to offer. Out of the almost One Hundred live albums they have, my personal favorite was their 1969 live recordings at Fillmore West and many other places around the San Francisco Bay area. The performance are a great showcase of their talents and have some great improvisational moments and really show why they were so popular in their day.
33. Merriweather Post Pavilion – Animal Collective
With the fast growth and use of Electronics in music, it is often been a great source for plenty of experimental music and Animal Collective has become a personal favorite in the field. They definitely captured unique sounds and very upbeat and memorable songs throughout the whole album and it ends up being an absolutely amazing album and it's probably one of the best I've heard that's come out recently.
32. A Night at the Opera – Queen
Originally, I was just going to go with their first Greatest Hits album as my choice for my favorite Queen album, mainly because that's the Queen album I listened to most as a child, but instead of taking the easy route I wanted to go through their albums and see which one I'd end up liking the most…and the result was basically the most obvious answer. I don't need to go into to much detail considering this is highly regarded as their best album.
31. Original Delta Blues – Son House
I've always enjoyed the Delta Blue the most out of the many Blues sub-genres. I always thought it contained some of the best artists and songs that I've heard and the one I've always been fond of is Son House. While I couldn't find any studio albums from him, I found this compilation album a while ago and it came with some of my personal favorite songs from him and it ended up as one of my favorites, obviously.

30. Head Hunters – Herbie Hancock
I use to think of Jazz Funk to be a rather odd idea when I first heard of it. I never imagined the idea of Synthesizers and Hammond Organs to be able to create Jazz music, but this album got me to think positively toward the idea thanks to Herbie and his "jamming" tunes on the album.

29. Saturday Night Fever Soundtrack – Various Artists
Much like the movie Saturday Night Fever, I was completely surprised by how much I ended up liking this album. It was a great accompaniment to the film and was one of my personal favorite elements of the film as well. While everyone knows the Bee Gees' tracks, which are my favorite tracks on here, I always enjoyed all of the other tracks like "If I Can't Have You" and "A Fifth of Beethoven" which help epitomize the Disco craze of the late '70s.
28. Dead Man's Party – Oingo Boingo
This album is basically one big nostalgia trip for me. Oingo Boingo is one of my all time favorite bands and I've heard then plenty of times as a child of an '80's Teen. I've heard plenty of songs from this album all the time, mainly the titular track, and the album has grown on me a lot over the years and I still enjoy listening to the High Energy Pop-ish New Wave music that Danny Elfman always had to offer.
27. The Downard Spiral – Nine Inch Nails
While the popular music of my youth was mainly surrounded by Boy Bands and more obscure artists and songs than any time period I can think of, a lot of my classmates were oddly into '90s metal bands like Marylin Manson, Korn, White Zombie, Misifts, and many others like them. So it didn't surprise me that I grew a liking to Trent Reznor. While being a very different turn from their previous synthpop sound, the still carried some of the elements lyrically while telling the tale of a man's suicide attempt mixed in with the Industrial sound that NIN are known for. Â It's definitely one of my odder choices on here.
Stay tuned for Part 3.
Album Links:
Alice's Restaurant -Â https://www.youtube.com/playlist?list=PLMbTKp3wJXPgWxig3a7D_fu10YC6RKDu4
Fly Like An Eagle -Â https://www.youtube.com/watch?v=2D4lVNMGZaM&list=PLN5z36XuyXJfuvXSZlu13M_UJO8_bQz_R
Master of Reality-Â https://www.youtube.com/watch?v=lF5gEf99Urw&list=PLAb2lmNIYk_7ClTbIxzaLNvkAHCk5GLgu
I Never Loved A Man The Way I Loved You -Â https://www.youtube.com/watch?v=7ifhxBievMw
Live/Dead -Â https://www.youtube.com/watch?v=aL-dUZJydcw
Merriweather Post Pavilion -Â https://www.youtube.com/watch?v=fYEAflCO4Eo&list=PLt6nqoGW2VDTOxl4j2gF7NiR7zDpP4iKs
A Night At the Opera -Â https://www.youtube.com/watch?v=BzOQA2-rGck
Original Delta Blues -Â https://www.youtube.com/watch?v=0IhmG7boqes
Head Hunters -Â https://www.youtube.com/watch?v=3m3qOD-hhrQ
Saturday Night Fever -Â https://www.youtube.com/watch?v=upreJjwag0g
The Downward Spiral -Â https://www.youtube.com/watch?v=n5lQwJqrjkM
Part 1: https://www.manic-expression.com/the-creatures-top-52-favorite-albums-pt-1/
About Author